Activities and Attractions in Dusseldorf
Explore the Chic Carnival city on the Rhine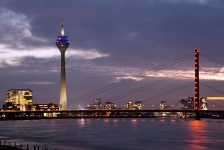 The Rhine metropolis of Dusseldorf city welcomes everyone with open arms and offers activities and attractions to suit all interests and ages. There are plenty of things to do in Dusseldorf for those who enjoy fast paced, thrilling activities. Ride quad bikes or do a Dusseldorf Segway tour, either along prepared courses or cross country, with different routes available offering different levels of difficulty, meaning a range of ability levels can take part.
Tourism in Dusseldorf also has something to offer for people who want to relax, which can be great for after a day of active, fast paced fun. Go for an evening out at a restaurant or bar, take a boat trip along the river or discover Dusseldorf on a guided tour.
Make the most of Dusseldorf with Regiondo
Dusseldorf offers an enormous variety of different activities and attractions. There are all kinds of activities available for if the weather is bad, for example, you can find out how jewellery is made, or learn about Germany in one of the city's museums. More sporty travellers will want to attend one of the many gyms and sports centres that can be found in the city, where one can take part in volleyball, football, or yoga.
There is also much to do for those who are visiting Dusseldorf for its vibrant nightlife, with many trendy bars and clubs which can be found in the Altstadt borough of the city. Many tourists are also attracted to the city during Dusseldorf's 'fifth season', the city's carnival and one of its biggest cultural events. This is how you can enjoy Dusseldorf attractions with Regiondo.
Culture in the Metropolitan Region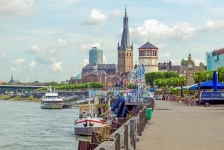 Dusseldorf is one of the most important economic, cultural, transport and political centres in Germany, and millions of people are visit every year. The city hosted the Eurovision Song Contest in May 2011, as well as frequent sporting events at the Esprit Arena.
There are many things to see in Dusseldorf - the city offers many museums and other cultural attractions, and excursions into the surrounding countryside are widely popular. With four universities - including the Heinrich Heine University and the famous art academy, 18 city museums, the Deutsche Oper am Rhein and the location of the two major broadcasters ZDF and WDR. The city is a cultural metropolis in the Rhine-Ruhr metropolitan region, and there is an enormous range of tourist attractions available for visitors to experience Dusseldorf.