Activities & Attractions in Bremen
Things to Do in Bremen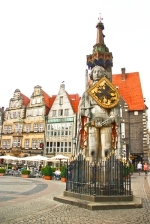 The nature of Bremen tourism is such that there are many activities and attractions that fit into all categories, from cultural experiences to outdoor pursuits and activities in Bremen that cater specifically for children.
While there are many things to do in Bremen to keep you busy throughout your trip, sometimes simply walking around the city with your camera and taking in the medieval architecture and street layouts is a great way to kill some time and perhaps discover the places you'd most like to return to later.
Sports fans can head to Weser Stadion, where Werder Bremen play their home games in the Bundesliga, although such is the popularity of the club in the city that you might have to settle for a stadium tour, unless you've purchased tickets in advance.
Discovering the Best of Bremen with Regiondo
Combining architecture and culture with outdoor pursuits is definitely the best approach to take to make the most of tourism in Bremen.
You'll find the large Bürgerpark in the centre of Bremen, which is the city's equivalent of New York's world famous Central Park, while Blockland is excellent for discovering the agricultural heritage of the city. Elsewhere, riverside walks along the Weser are perfect for romance or simply giving your children an opportunity to run around for a while.
Turning back to culture, Bremen shares a lot of characteristics with Germany's other great cities in that it is filled with amazing museums and art galleries, not to mention the fact all of these buildings have stunning medieval facades and other external features. Whether you're looking for a cultural experience or want to spend time walking through parks or along the riverside, this is how you can enjoy the activities and attractions in Bremen with Regiondo.
Local Information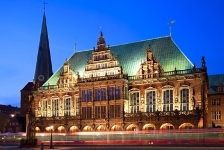 The best way to get around the city centre is on foot; many of the areas aren't officially pedestrianized, but drivers in the city are generally tolerant and relaxed to those getting around on foot. Trams and buses also run at regular intervals for helping travellers get around easily, while Bremen also enjoys good road connections to Hamburg and the northern coastal areas of Germany. Bremen also has a range of accommodation options suitable for budget travellers or those looking for luxury, with options both inside the city centre and outside of the busier areas.