Tourism & Sightseeing Tours in Berlin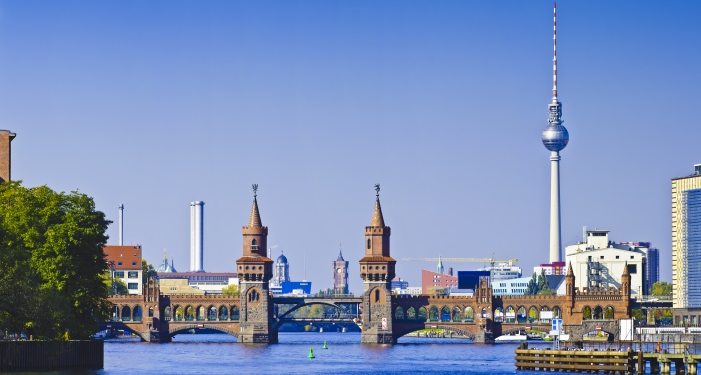 Berlin
As the capital of the Prussian Kingdom, German Empire and Nazi Third Reich as well as its frontline role during the Cold War, Berlin has certainly had an eventful history especially in the last century. Although it has moved forward from its turbulent past to become a modern cosmopolitan city and an important European cultural center, everywhere you go, you will see remnants of the imperial, national socialist and communist eras.
Berlin is divided into 12 boroughs although the main areas of interest can be found in the districts of Mitte, Charlottenburg, Schoneberg, Friedrichshain, Kreuzberg and Prenzlauer Berg all located within the center of the German capital. For tourists, there is no shortage of sightseeing opportunities and tours where you can visit monuments, parks, museums and galleries to gain a greater insight into Berlin's history.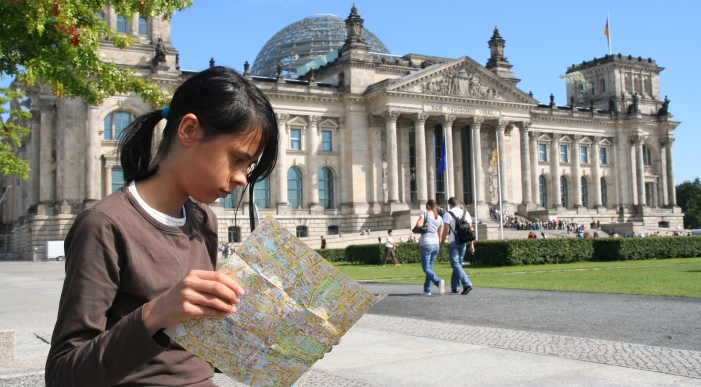 Sightseeing in Berlin
Bus Tours
Hop-on hop-off bus tours are one of the most flexible sightseeing options where participants can board an open top bus and travel around an extensive circuit with up to 20 stops within close proximity to the main highlights of Berlin. You can listen to the commentary on board with complimentary headphones where you will learn more about the history of the districts you pass through. With buses passing by the same stops at 10 minute intervals, you can spend as much time at the sights which are of interest to you before boarding the next bus.
Boat Tours
The River Spree provides a passage through the heart of Berlin where you will discover over 40 bridges in the city as well as some of the major landmarks on the shore. Some providers even often dinner cruises at night so you can enjoy a buffet meal with drinks while seeing the illuminated monuments of the city. With an extensive water network, some boat tours will even take you to visit some of the lakes in the neighboring Brandenburg region including the Great Mugelsee and Wannsee.
Walking Tours
Each district in Berlin has its own unique culture and story to tell. If you take a walking tour through Schonberg, you will discover its multicultural outlook and the role of the LGBT community in promoting tolerance and freethinking. A guided tour of Prenzlauer Berg will reveal not only what life was like under the Communist GDR but also the history of the Jewish community in that area. Alternatively, you can get a taste of Berlin's counterculture movement by exploring Kreuzberg with its street art as well as trendy nightlife venues.
Bike Tours
Berlin's highly sophisticated transport infrastructure means that the city is a cyclist's dream with wide streets, multiple bike routes and flat terrain. Why not take a bike tour along the former Cold War frontier where you will see remnants of the Berlin Wall, Potsdamer Platz and Checkpoint Charlie. A specialist tour of East Berlin will take you through Karl-Marx-Allee with its imposing Communist architecture and towards the former Stasi secret police headquarters. Some tours will take you off the beaten path and cover a greater radius as you find yourself exploring the numerous lakes on the outskirts of the city.
Other Tours
There are of course more unconventional sightseeing options available. While Berlin is famous for its urban art scene, some tour operators will even organize a workshop after the tour so you get to create your own unique piece of street art. If you are feeling nostalgic, you can also ride in a classic East German Trabant vehicle and imagine what life was like over 30 years ago. Alternatively, you can try the increasingly popular Segway tours available where you ride on a two-wheeled electric vehicle through the central and government districts of Berlin.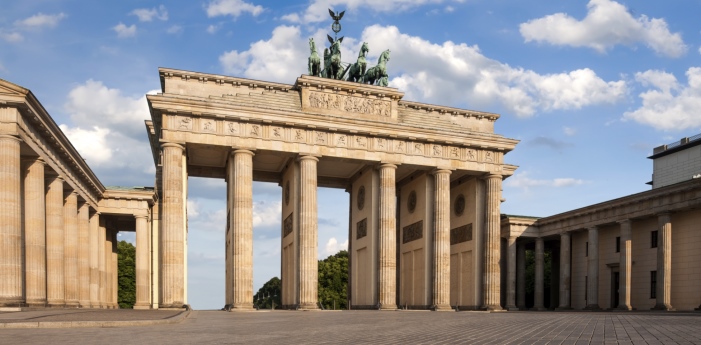 Sightseeing Landmarks in Berlin
Brandenburg Gate (Brandenburger Tor): This landmark is a reminder of Germany's imperial past under the Prussian monarchy. Built in the Neoclassical style and modelled on the Acropolis in Athens, since 1989, the Brandenburg Gate has come to symbolize unity and harmony in Germany after decades of intolerance and segregation.
Reichstag: First opened in 1894, this is where the federal parliament meets and many of the main political issues in Germany are discussed. In recent years, it has become an increasingly popular tourist attraction thanks to the construction of a glass dome which offers visitors a panoramic view of Berlin from a fairly central location.
TV Tower (Fernsehturm): Located in Alexanderplatz, this 368 m structure is the tallest landmark in Berlin and allows visitors to climb 204 m to the observation deck where they can admire the view of Berlin and the surrounding landscape. There is also a rotating restaurant which takes 30 minutes to complete one revolution.
Berlin Cathedral (Berliner Dom): This monument is the biggest and one of the most impressive churches in Berlin. The current structure was built around the beginning of the 20th century and is a main center of Protestantism in Germany.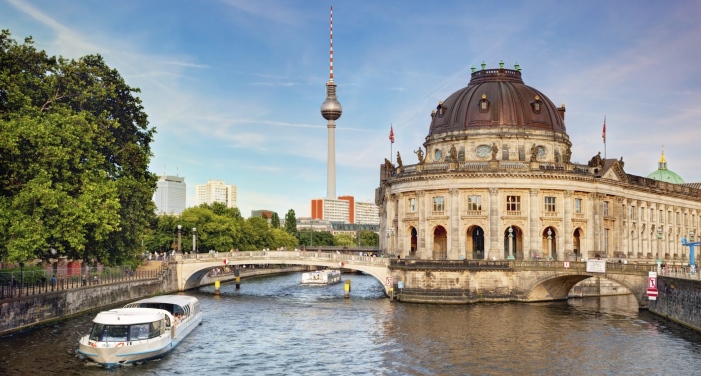 Museums in Berlin
Museum Island (Museuminsel): This museum complex on an island in the River Spree contains 5 globally renowned museums and galleries with artifacts covering a period from Ancient Babylon 3,000 years ago to the 19th century. One particular highlight is the Pergamon Museum which houses the Pergamon Altar and Ishtar Gate of Babylon.
East Side Gallery: This open-air gallery contains the longest remaining stretch of the Berlin Wall intact. Visitors can see over 100 murals from international artists with this exhibition symbolizing freedom of expression especially after years of repression.
Topography of Terror: This open-air museum was once the headquarters of the Gestapo and SS during the Nazi regime. You will find old prison cells and learn more about the brutal security apparatus that developed under National Socialism and how political repression was carried out.
Charlottenburg Palace: This is the only surviving residence of the former Hohenzollern monarchy who ruled Germany until 1918. The palace was built in the 17th century in a Baroque style and contains French works of art from the 18th century. The Gardens are accessible to the public for free and you can find meticulously manicured lawns, flowerbeds and other charming highlights.
Sightseeing Outside Berlin – Potsdam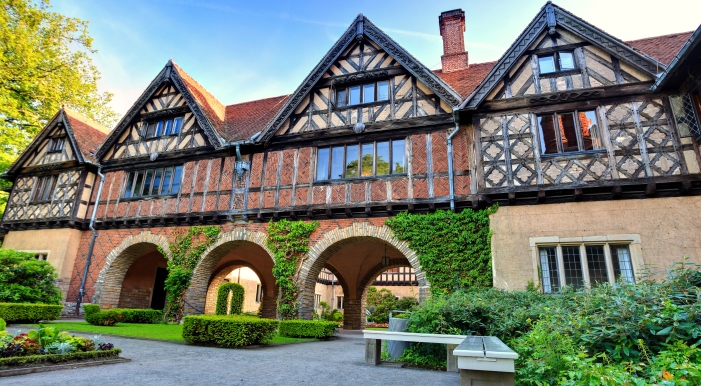 Potsdam
If you are looking to spend a day sightseeing outside Berlin then the neighboring city of Potsdam in the federal state of Brandenburg provides a wonderful opportunity to explore a world of royal intrigue and enchanting scenery. Furthermore, it only takes 40 minutes on the S-Bahn rail network to reach Potsdam from central Berlin.
Known as the "Versailles of Germany", Potsdam contains a wealth of spectacular palaces where the Prussian monarchs would reside. The main highlight has to be the splendid Sansoucci Palace built in the rococo style under Frederick the Great as a summer residence. It also contains a large park with classical and oriental inspired monuments as well as flower gardens, hedges and thousands of fruit trees. Other royal highlights include the Cecilienhof Palace with it reminiscently Tudor style of architecture and the Babelsberg Palace and Park which covers 114 hectares with charming monuments scattered about.
There are plenty of sightseeing tours available including hop-on hop-off bus tours. Starting at Lusienplatz, the route will allow you to stop at the 19th century Russian village of Alexandrovka as well as the Neues Palais (New Palace), Cecelienhof and Sansoucci Palaces. Or you could embark on a classic city walking tour and explore the Old Town with its Baroque architecture and ornate city gates.
Come and Visit Berlin
Whether you intend to spend a couple of days or a week in Berlin, you will find plenty of sightseeing activities and attractions to keep you occupied. Furthermore it might be worth investing in a Berlin Welcome Card which entitles you to a range of benefits including free travel on the public transport network and discounts of up to 25% off sightseeing tours. One option even grants you free admission to the attractions of Museum Island where you could spend at least a few days exploring thoroughly the exhibits on offer.
This is your opportunity to discover Berlin's fascinating past as well as the contemporary developments shaping a new era in the city's history.