Bike Tours in Berlin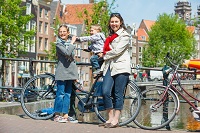 Seeing Berlin by Bike
Riding a bike is something most of us can do; after all, it isn't as if you ever forget how it's done! Travelling around Berlin on a bike is a unique experience, but easy to do given the way the city is set up for alternative modes of transport such as bikes and Segways. How you decide to experience Berlin by bike is up to you. You have the chance to hire a bike from various points throughout the city and take yourself off on an adventure around Berlin, while another popular idea is to take a bike trip in Berlin with an experienced city guide.
Berlin Bike Tours with Regiondo
Booking your bike tour of Berlin is easy with Regiondo. Simply use our website to choose the type of Berlin bike tour you wish to take, and that's all you need to do. Whether you want to hire a bike and discover Berlin by yourself, or wish to take a family bike tour to all of the popular historic places throughout the city, there's something for all ages to enjoy.
The mild climate of Berlin throughout the year means that a bike tour of the city is pleasant and comfortable, keeping you healthy while you take the chance to enjoy the very best of what Berlin has to offer. With many different routes you can enjoy, it is easy to enjoy Berlin bike tours with Regiondo!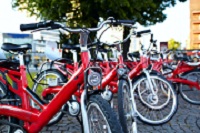 Berlin Bike Tours and Beyond
The great thing about your Berlin bike tour is that you can decide to simply stay on your bike all day and travel around the city, or choose to visit your favourite museums in Berlin or landmarks such as the Brandenburg Gate while doing so. When you decide that you've had enough cycling for one day, you can simply return your bike to your hire centre and then head back into the city to discover the best restaurants and places to spend the evening.
There is also miles of beautiful countryside beyond the city limits of Berlin that can also be explored by bike if you're looking to have winding roads with charming scenery all to yourself, while there are routes throughout the city that are ideal whether you're looking to get around quickly or just relax and explore at your own pace.