Things To Do in Berlin
Berlin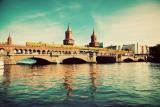 With its status as the capital and largest city in Germany with a population of approximately 3.5 million inhabitants and 6 million tourists visiting it each year, there is no doubt that Berlin is an exciting and worthwhile location to spend time and make the most of what it has to offer. As a city that manages to blend an eclectic mix of tradition with a progressive contemporary cultural outlook, it is evident that Berlin's dynamism is influenced by the many different and vibrant communities that exist within each district.
Since reunification in 1990, the city has been determined to move forward from its recent turbulent past. With an internationally popular vibrant nightlife scene, a distinct street art culture, varied architecture and a rich historical legacy - encompassing the 500 year Prussian Hohenzollern era, the Golden Twenties, the Third Reich and the Cold War – there are a variety of attractions throughout Berlin. Whether you are young or old, a partygoer, an adrenalin junkie, a history and art enthusiast or someone who just loves the outdoors and wildlife, there is something for everybody in this diverse city.
Things To Do In Berlin – Sightseeing
From the Prussian neoclassical influences of the Age of Enlightenment to the more contemporary street art alternative culture, Berlin has one of the most diverse range of sightseeing attractions reflecting different periods and different tastes. But if there is one monument that truly symbolizes Berlin, it has to be the outstanding 18th century Brandenburger Tor (Brandenburg Gate) which took its inspiration from the Acropolis in Athens and can be found in the central district of Mitte. After reunification, this monument has been restored to its former glory and has come to represent peace and unity after decades of division in the city.
Sightseeing Tours
One of the best ways of exploring the sights of Berlin is by taking a guided tour through various districts to learn about the nature of the community and its role in shaping Berlin's history. There are many walking tours available and explore different themes such as Schöneburg's multicultural and rainbow neighborhood, or visit the Kreuzberg district to learn more about street art and the vibrant youth culture. Alternatively, take a bus tour that covers a greater area of the city boundary and cross Checkpoint Charlie into the former Soviet sector of Berlin including Friedrichshain where Karl-Marx-Allee reflects the Communist legacy of East Berlin. For a splendid panoramic view of the city, climb up the 368 m Berlin Fernsehturm (TV Tower) which attracts over a million visitors a year.
Museums
If you like visiting museums then Berlin is the ideal city with over 50 museums to choose from. No historic tour of the city would be complete without visiting the spectacular Museuminsel (Museum Island) which receive UNESCO World Heritage status in 1999. With 5 museums including the infamous Pergamon Musuem which houses spectacular artefacts from ancient Babylon, Greece and the Roman Empire, you could easily spend days admiring the impressive exhibitions on offer.
Additionally, you can visit the baroque Charlottenburg Palace which is the only surviving Berlin residence of the former Prussian Hohenzollern royal family. The magnificently kept gardens are a reminder of how Charlottenburg is a traditionally affluent area and was a recreation area for the bourgeoisie. For a more recent overview of Berlin's dark history, there is The Topography of Terror which was the former site of the Gestapo and SS headquarters during the Nazi era or the Stasi Museum located in the former East German secret police headquarters.
Other Sights of Interest
Other landmarks worth visiting include: the Berliner Dom (Berlin Cathedral) where you climb up to the dome for a splendid view of the city; the Reichstag building or Bundestag which is the seat of the German Parliament and also contains an impressive dome made of glass where you get a better overview of Berlin; the East Side Gallery has the longest stretch of the Berlin Wall still intact and contains many politically motivated paintings and drawings from international artists which have been preserved to symbolize the expression of freedom.
Things to do in Berlin – Leisure Activities
Leisure Activities
From family outings to an amusement park to exploring the underground Berlin music scene in the trendy Kreuzberg district, there are always plenty of activities available in the city to suit all ages and interests.
Amusement Parks & Zoos
If you want to keep the kids entertained then why not visit Berlin's Legoland Discovery Center with numerous attractions and exciting activities to keep the whole famiy entertained. It is also worth paying a visit to AquaDom & Sea Life Berlin aquarium with its exhibition of over 5,000 sea creatures and ride inside the AquaDom where you can experience close up 97 different species of fish in the largest cylindrical tank in the world. Continuing with the animal theme, you can visit the Berlin Zoologischer Garten which is the oldest and most comprehensive zoo in Germany housing 1,500 different species of animals including lions, giraffes and elephants and is located in Berlin's Tiergarten, or there is the Tierpark which is more spacious and also contains an impressive selection of animals.
Shopping
For shopping, there are no shortage of options available. Kurfürstendamm (Ku'damm) is Berlin's equivalent to the Champs-Élysées and stretches for 3.5 km where you can find many large international department stores and luxury brands including Cartier, Dolce & Gabbana, Giorgio Armani, Louis Vuitton, Rolex and many more. In Tauentzienstraße, you can also find the enormous Kaufhaus des Westens (KaDeWe) department store and with an area covering 60,000 m², making it the second largest store of its kind in Europe after Harrods in London. The 6th floor contains a vast food hall and delicatessen with more than 30 gourmet counters while the 7th floor has an impressive 1,000 seat restaurant. For a more central location in the heart of the city, try Potsdamer Platz Arkaden which contains 140 shops with a casino, cinema and music theatre also closely located. On Sundays, you can visit the Mauerpark Flea Market or nearby Arknoaplatz in the Prenzlauer Berg district.
Berlin at Night
At night, Berlin also boasts a vast range of options to suit everybody. For musical, opera and theater-goers, you can get a ticket for a show at the Deutsches Theater, Theater des Westens or Deutsche Oper respectively for a more traditional experience. Venues showing more modern elements include the Theater am Kurfürstendamm where celebrities are featured or the Komische Oper and the Berliner Philharmonie with its splendid acoustics and architecture. If you are looking for a place to dine before or after your show, then each district has a vast choice of options. For more upmarket restaurants, try the central Mitte or the City West area, otherwise you can find anywhere a range of street cafes and dining areas catering for all culinary tastes including French, Italian, Turkish and of course traditional German cooking.
If you are looking to explore the bar and club scene then there is no shortage of options especially around Friedrichshain-Kreuzberg and Prenzlauer Berg. By participating in a pub crawl, this gives you the best introduction of the Berlin nightlife where you meet other partygoers and experience the varied scenes that Berlin has to offer. For the more traditional, there are a number of Irish pubs where you can watch international sports as well as the German Bundesliga. Many young people like to meet in the many cocktail bars which cater to different groups including the LGBT community, punk rockers, jazz enthusiasts, ravers and the 60's hippie movement. Berlin also has undoubtedly one of the most vibrant club scenes in the country including an internationally acclaimed techno scene which had once been extended through the popular Love Parade Festival which ran in the city until 2003. Otherwise you can find other music styles to suit everybody from pop, indie, electro, hip-hop, jazz and classic 60's – 70's music.
Things To Do Beyond Berlin – Potsdam & Sachsenhausen
Transport
With a comprehensive integrated transport network, it is very easy to travel around Berlin where the U-Bahn and S-Bahn underground trains, buses, trams and ferries run at frequent intervals. The good news is this network also extends outside of the city boundaries into the neighboring German federal state of Brandenburg where you may wish to plan a day trip or excursion to Potsdam or Sachsenhausen.
Potsdam
Potsdam has often been described as the "Versailles of Germany" as this city was the official residence of the Prussian / German Hohenzollern monarchy. Not surprisingly it contains some beautiful landmarks including Cecilienhof Palace and the Sanssouci Palace – the latter being the formal summer residence of King Frederick the Great. Babelsberg Park also has an impressive Gothic style castle which justifies the city's status as a UNESCO World Heritage Site. There is also the charming 19th century Russian Alexandrovka Colony worth exploring for its museum, tea-room, Russian style houses and Russian Orthodox Chapel. For fun for the whole family, Filmpark Babelsberg is a movie theme park where you can watch live shows and learn more about the film industry while also exploring the interactive 4D Cinema.
Sachsenhausen
Sachsenhausen is the site of the former Nazi concentration camp which is open to the public as a museum and memorial to the victims who suffered throughout its 15 year history. After it opened in 1936, it became a training camp for SS officers who would then graduate and oversee operations in other camps across the Third Reich. Commonly used for political prisoners, this was also the site of some of the worst atrocities committed during the Second World War including the systematic execution of 10,000 Soviet prisoners of war in 1941. Even after 1945, Sachsenhausen continued to operate for another five years by the Soviet Union who interred 60,000 prisoners including Nazi officers, anti-Communists and Nazi collaborators.
Come and Visit Berlin
Whether you intend to explore further outside Berlin or keep within the city during your stay, there are undoubtedly plenty of things to do in the area to keep you busy and help you to understand and appreciate the eventful yet often somewhat relatively recent turbulent history of the traditional center of German politics. But with a growing reputation of multiculturalism and tolerance towards others and its role as a European cultural center embracing new modern ideas simultaneously with its conservative traditions, Berlin will continue to be a city that excites and catches the attention of people worldwide.