City Bus Tour through Salzburg
by

Salzburg Sightseeing Tours

5020 - Salzburg
Explore the home of Mozart in comfort: With a bus tour you can see all the highlights, including superb public buildings, castles, and churches. Rich salt deposits secured Salzburg's prosperity, something that can be visibly appreciated.
Tourist sights including Mozarteum, festival hall and Hellbrunn castle
High quality tour since 1927
Break at Hellbrunn castle
Venue

Mirabellplatz 2B 5020 Salzburg, Österreich
Paid parking available
Bus 1,2,21,22,150: Stop Mirabellplatz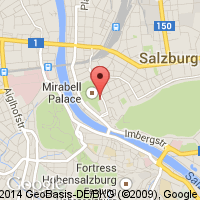 Further information
Take a trip through Salzburg on this comprehensive and comfortable bus tour. Look back over the thousand year history of Mozart's home city, one of the best preserved cities of the Middle Ages. Romantic shopping streets, cafés, marketplaces and the impressive cathedral offer unique photo opportunities.
The film industry has also captured the special character of Salzburg. In 1965 the film "The Sound of Music" with Julie Andrews was filmed here. Above the picturesque old town stands one of the best preserved fortresses from the Middle Ages in Western Europe: The Hohensalzburg. For over 900 years it was a testament to the wealth of the city rulers.
Route course:
Mirabell Castle
Mozarteum
Marionetten theatre
Mozarts house
Holy Trinity Church
Hourse pond
Festival Hall
Siegmundstor
Hellbrunn Castle
Frohnburg Castle
Nonnberg Pen
Mozart Square
At the Hellbrunn Castle there is a short trip planned, where you can rest your feet. This bus tour is an ideal opportunity to get to know the many facets of Salzburg .
1 Reviews
Super Städtetripp :)
Kann man nur empfehlen.

Der Fahrer war ein Salzburger, der uns viele info´s gegeben hat z. B. über Restaurants.

Bei der Fahrt konnten wir an vier Punkten aussteigen und dort Foto´s machen. Er hat auch von allen Mitfahrern (vier Pärchen) welche gemacht was ich sehr schön fand...

War ein tolles Erlebniss! So hat man in knapp zwei Stunden alles wichtige von Salzburg gesehen.
by Dani on 2/25/2015