CANYONING NERO CREEK, LEDRO VALLEY, TRENTINO
Discover energy and adrenaline by diving in Nero Creek, enjoy the charming environment full of emotions and well-being.
Fun and adrenaline
Feel safe with an international certified canyoning guide
Natural slides and many jumps
Included

Mountain guide and certified canyoning guide, 5mm neoprene suit and socks, life vest, helmet, harness. 

Not included

Transfer (we can provide transfer from Riva del Garda to the activity place)

If we have the chance we make pictures during the activities, but it's not sure;sometimes after the canyon if we have the time we stop for a drink together that is not included

Duration
4 Hours
Bring along

Swimsuit, sneakers or hiking shoes to wet, towel

Participants
From 2 to 10 participants
Categories
Canyoning, Extreme Sports, Canyoning in Tiarno di Sopra, Canyoning in Trentino-Alto Adige
Languages
French, English, Italian, Spanish, German, Dutch
Opening hours
Region
Tiarno di Sopra, Trentino-Alto Adige
Requirements

Proper relationship height-weight, good physical conditions, underwater-friendly, no dizziness

Important information

Canyoning is an activity that most of the time you are in the water, descending natural courses with all it beauty and danger.During the path there are slides, also known as toboga, waterfalls from where the guide will abseil you, cliffs from where you jump or not, small lakes, and routes where we walk where it is slippery and disconnected;If you do Canyoning wrong it is more risky than it already is;There are many risks and they can end also really bad such as: hypothermia, injuries, drowning etc..LOLgarda will give you all the information and give you the whole technical equipment such as:neoprene suite, canyoning harness, helmet, life jacket, and neoprene socks, not shoes; in case you are on holiday just with sandals let us know;You will be accompanied by a Mountain Guide with Canyoning specialisation.THE GUIDE : his decisions can't be discussed it's the only person allowed to take decisions for the entire group he will abseil you, he wil tell you how and where to jump, he will give you the right information to do this activity in a safe way; in case that one or more members of the group taking part to the activity don't wan't to listen or to do what the guide says, the guide can decide to let stop the whole group or just them, cause it is to risky for everybody

he reserves the right to postpone or cancel the activity due to bad weather conditions or lower number of participants.once the activity is started there will not be the possibility to go backwards, the only way is to finish the canyon and sometimes there are some emergency exits, there is always the possibility that the guide decides to move the tour for safety reasons ( for the bad weather conditions, cause the members don't listen or are under alcohol or drugs effects)If the customer does not show up or does not take part to the activity there will be no refunds. Before starting the activity there will be a briefing, where we will ask if you have any problems (panic attacks, some physical problems, diabetes or other things), this will let you still take part of the group but it is important to know so that we can react in the right way in case something happens.Canyoning is an activity that everybody can do with good physical conditions and has a good confidence with water;

 
Venue
When you drive from Riva del Garda our centre will be at your right side 100m before the street that brings you to Tremalzo, if you come from Tremalzo than it is 100m after at your left side. If you need transfer please contact us to arrange it
LOLgarda Canyoning & Outdoor Centre by Live Outdoor Life
SS240, 17-15, 38067 Ledro TN, Italia
at our canyon & outdoor centre you can park for free
Bus stop lago d'ampola
Offered by
LOLgarda by LiveOutdoorLife
38067 - Tiarno di Sopra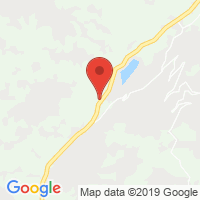 Further information
Canyon located in Ledro Valley just above Riva del Garda, it offers many 4m/7m-high jumps, natural slides, vertical descends in waterfalls by ropes and gives the unique chance to admire the inner environment. The adventure starts at Ampola Pass where a 20-minute -long trail brings to the creek. After an appropriate explanation concerning safe actions and descending positions we will be ready to jump! With LiveOutdoorLife #lolgarda you just run the risk to have much fun.
In the description yu will find that it takes 4h, including the time we take to let you sign the documents, give and wear the technical equipment and so on, in the water we will be approximatly 2 or 3 hours, could be more or less it is different with every group and we can't know it in advance;
4 Reviews
Escursione bellissima
I ragazzi di lol Garda sono spettacolari, gentili e simpatici, escursione molto bella lungo un torrente che non si smetterebbe mai di guardare.
Assolutamente consigliato!
by Matteo Rozzoni on 06/07/2019
grazie mille matteo speriamo alla prossima avventura!!!
Splendida giornata!!!!!
Mi sono divertito molto .... Ho già consigliato a molti amici di fare questa esperienza....


by massimiliano bianchetti on 09/29/2018
Super experience and adrenaline
Would very much recomend canyoning in Nero river with LOL. We are a family of 4, the kids are 10 and 12. All four of us had a great day, together with our guides Lisbet and Andrea. We will do this again..
by Yngve Furseth on 07/11/2018
More offers from this partner