Canyoning in Mallorca with guide and transfer
–5%
The Tramuntana mountains in Majorca are known for their characteristic white limestone formations and also for the many canyons. On this canyoning-tour you will jump from high cliffs, swim in the mountain water and rappel down from great heights: You will experience the best adrenalin kick.
Exciting canyoning-tour
Adjustment of the route according to the level of the group
Professional guides
Transfer from and to the hotel
High safety standards and fun for professionals and beginners
Included

5-6 hours canyoning tour under professional guidance, helmet, harnesses and ropes, local, professional, certified guide, safety equipment, wetsuit, insurance, we pick you up from almost every hotel in Mallorca and bring you back

Not included

Food and drinks

Canyoning shoes rental: 5 euros

Duration
6 Hours
Bring along

sporty clothes that can be stowed well in a small drying container, sturdy and stable footwear that can get wet, swimwear on, change underwear, towel, suncream, Min.1, 5 liters of water and a well packed food!, For safety reasons, we recommend no Bring jewelry or valuables. You are welcome to bring a camera, but it must be waterproof. We are not liable for any loss or damage.

Participants
Tour takes place from 2 persons. The groups are rather small. Max. 8 persons per guide.
Categories
Canyoning, Extreme Sports, Canyoning in Palma, Canyoning in Illes Balears
Languages
German, English, Spanish, Polish
Opening hours
Region
Palma, Illes Balears
Requirements

Minimum age: 12 years, no experience is required, they should not be afraid of the water, although all participants wear life jackets. Good general health and condition is required. Please notify all medical illnesses. You only have to inform us if you can not swim.

Important information

• This activity depends on the weather conditions. The tour will not take place if the weather conditions make it impossible. Alternative: if the tour is canceled, we try to offer an alternative appointment.
Venue
Please contact the providor after booking via E-mail for the transfer from and to the hotel. Contact details can be found on the online ticket.
Pick up availible at all Mallorca hotels- contact via E-mail.
Palma de Mallorca, Spanien
Offered by
Experience Mallorca
07458 - Palma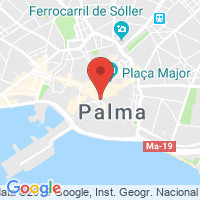 Further information
On this canyoning-tour you will experience the vast limestone cliffs very close up: The group climbs through one of the great crevices of the Tramuntana Mountains. You have to slip through waterfalls, abseil steep cliffs and jump in a couple of deep pools. Adrenaline in the veins is guaranteed.
As the tour is quite demanding, the guides ensure constantly the safety of everyone and adapt the route to the level of the group.
Mallorca is world famous for canyoning. The combination of limestone and sea water makes Mallorca a paradise for canyoning. Discover the spectacular gorges of Mallorca, which have formed the water into limestone over the course of millions of years. There is something for every taste in Canyoning Mallorca. The Tramuntana mountains in Mallorca offer narrow, deep, almost bottomless ravines with high cliffs.
The magnificent natural spectacle of the gorges in Mallorca. Sa Fosca is considered one of the most impressive canyons in Europe. We offer canyoning tours of various difficulty levels for both professionals and beginners. Who wants to experience a real adrenaline rush should try canyoning on Mallorca!
Our canyoning tours in Mallorca are not easy hikes. Canyoning is an adventure sport that combines hiking, sliding, climbing, jumping, abseiling and swimming. They follow the river over rocks and waterfalls often to the sea. They jump from rocks in pools and have a lot of fun! The descent is challenging and varied. At every canyoning expedition, you will be provided with safety equipment such as climbing harnesses, ropes, helmets and wetsuits. While our experienced canyoning guides lead you through the canyons in Mallorca, they teach you many techniques of abseiling, climbing, descending, sliding, wading, swimming, etc.
We are very proud of the quality of our canyoning expeditions. Our canyoning tours offer safety and fun. We have a tour for every level. (However you should already be reasonably fit!) Please contact us in advance so we can find the best canyoning tour for you.We provide the best canyoning guides and the best safety equipment so that you can really enjoy canyoning in Mallorca!
You should wear sturdy shoes during canyoning (hiking or sneakers).We also rent canyoning boots from Bestard for 5 €. These boots will not be heavy when wet.
Experience Mallorca offers the following canyons in Mallorca:
For beginners:
Torrent de Coanegra
Torrent de Na Mora
Medium level:
Torrent of the Lli
Torrent de Biniaraix
For advanced:
Torrent fondo de Mortitx
Salt del Molinet
Sa Fosca (Gorg Blau) (only on request)
1 Reviews
Sich einfach mal hängen lassen auf Mallorca
Das Canyoning mit Experience Mallorca hat viel Spaß gemacht. Die Tour durch die Berge war sehr schön, weil man kaum anderen Touristen begegnete. Die Ausblicke waren einzigartig und brachten uns Mallorca anders näher. Das Equipment war sinnvoll und wurde gut erklärt.

Experience Mallorca war sehr flexibel was die Terminplanung anging auch über die sehr gute Organisation von Regiondo hinaus. Auch die Kommunikation geschah einwandrei und war sehr ehrlich. Gerade im Sommer ist dies wichtig, da ja hier eher von einem Abseiling-Erlebnis die Rede ist. Die Canyons sind zu dieser Zeit nicht beschwimm- oder bespringbar. Unser Guide war stets auf unsere Sicherheit bedacht. Für uns als "Kletteranfänger" genau die richtige Mischung. Und nach 6 Stunden waren wir auch dankbar unten wieder heil angekommen zu sein.

Kleiner Tipp: fragt auch dediziert nach einem deutsch bzw. englischsprechenden Guide. Bei uns war Spanisch die Sprache der Wahl woraus für uns kein Problemerwuchs.
by Markus on 05/15/2015
know betterbook bettergo better
TripAdvisor Traveler Rating
382 Reviews
More offers from this partner