Enchanted Forest - Monte Bondone - Trentino - 1 hour
Shh, it's night: all is still, all is magical! Walk with our Alpine Guides amidst the silence and secrets of the woods. Evening walking excursion, perfect to whet your appetite before dinner!
Emotion
Silence
Trento city at night
Included

Alpine Guide Service for the excursion
Front lamps

Not included
Duration
1 Hour 30 Minutes
Bring along

Possibly trekking boots with warm socksappropriate
mountain or ski clothing
good jacket
gloves and capunderwear
spare socks for the after-trip

Participants
The tour will be implemented starting from a minimum of 4 participants
Categories
Hiking Getaway, Hiking, Hiking Getaway in Vaneze, Hiking Getaway in Trentino-Alto Adige
Languages
English, Italian
Opening hours
Region
Vaneze, Trentino-Alto Adige
Requirements

Suitable for everyone, children (> 6 years)

Important information

Do not forget your gloves and cap and warm socks!
Mountain Guides: 0039 347 7031435
Venue

Strada Provinciale 85, 21, 38123 Vaneze TN, Italia
Offered by
Dolomiti Avventura
38123 - Vaneze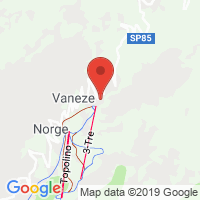 Further information
18:00 meeting in Vaneze (30min drive from Trento) at APT (tourism promotion company)
Distribution of the material and departure for the trip
Return, more or less for 7:15 pm
1 Reviews
Esperienza bellissima!
In realtà ho cambiato il "Bosco Incantato" con la Ciaspolata a "Viote", e mi sono divertita moltissimo.
Paesaggio incantevole, e Gianfri si è rilevato una guida preparata e piacevole.

Lo consiglio a tutti.
Emanuela
by emanuela varasano on 01/07/2018
Grazie mille Emanuela, speriamo di rivederci la prossima volta con tutta la famiglia! Gianfranco.
More offers from this partner