Berlin Walking Tour: Jewish Life in Berlin
Explore Berlin's Jewish past. On this insightful tour you will be lead through a delicate and often tragic history that charts the beginnings of integration and acceptance of Jews into German society, the dark days of the "Third Reich", and the revitalisation of the present day.
Visit the old Jewish quarter including the New Synagogue and the final resting place of Moses Mendelssohn
Learn more about the history of the Berlin Jewish community
English-speaking tour guide
Venue
Restaurant Weihenstephaner opposite S-Bahn station Hackescher Markt
Neue Promenade 5, Berlin, Deutschland
Hackescher Markt
Offered by
Original Berlin Walks
10178 - Berlin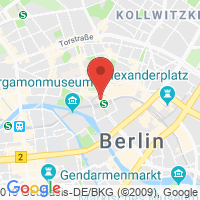 Further information
Berlin's Jewish community's contribution to Jewish and European culture cannot be overestimated. The old Jewish district of Germany's capital had been devasted during the Third Reich, however, today, the Jewish community has experienced a revival and continues to thrive.
In this walking tour, you will discover where some of the old sites including the Old Synagogue once stood. Visit the resting place of the 18th century philosopher Moses Mendelssohn in the Old Cemetery and Otto Weidt's workshop where he helped to save his Jewish workers from deportation to the concentration camps during WWII. See also the new Jewish School and the new New Synagogue which are symbols of the Jewish revival in the community.
0 Reviews
Unfortunately there are no reviews available. Be the first to review Berlin Walking Tour: Jewish Life in Berlin.
know betterbook bettergo better
TripAdvisor Traveler Rating
8824 Reviews
More offers from this partner