The Berlin Wall - Walking tour
For 4 decades in the 20th century, Berlin was divided into East and West under 2 different political entities. This was the heartland of the Cold War battle between the Capitalist West and Communist East. Explore the famous sites of this era including the Wall Memorial and East German landmarks.
Visit monuments including the Memorial Wall, Potsdamer Platz, Karl Marx Allee and Gethsemane Church
Learn more about life and East / West German culture during the Cold War
English speaking tour guide
Children under 12 years old (accompanied by an adult) go free
Included

4 hour guided tour with professional guide

Duration
4 Hours
Bring along

Please bring a day ticket AB as we'll make use of public transport during the tour.

We recommend comfy shoes and weather appropriate clothing.

Participants
Max. group size: 30
Categories
Historical Tours, Walking Tours, Other Themed Tours, Themed Tours, Historical Tours in Berlin, Walking Tours in Berlin, Other Themed Tours in Berlin, Historical Tours in Berlin, Walking Tours in Berlin, Other Themed Tours in Berlin
Languages
English
Opening hours
04/01/2017 – 12/31/2020
Daily 08:00 - 20:00

Region
Berlin, Berlin
Venue
Restaurant Weihenstephaner opposite S-Bahn station Hackescher Markt
Neue Promenade 5, Berlin, Deutschland
Hackescher Markt
Offered by
Original Berlin Walks
10178 - Berlin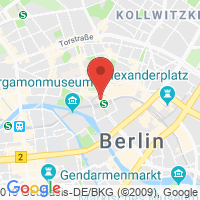 Further information
After 1945, Europe was largely split into 2 camps: the Western capitalist camp formed the NATO alliance while the Eastern communist bloc formed the Warsaw Pact. The center of rivalry and tensions was of course Berlin which was divided into 4 sectors, the western sector was supervised by American, British and French forces while the eastern sector was influenced by the Soviet Union.
In this tour, you will explore the former infamous "Iron Curtain". Walk down the East German "Stalinallee" (now renamed Karl Marx Allee) Boulevard and see the communist architecture that was prevalent at that time.
The Wall Memorial commemorates the partition of the city and you will learn about famous attempts from East Germans to escape the Stasi security apparatus into West Berlin.
Visit Gethsemane Church where civil rights activists in East Germany in the late 1980s protested against the regime which paved the way for eventual German reunification. You will see where the wall was breached in Bornholmer Strasse and explore the longest stretch of wall still intact.
It is recommended you have a travel ticket for this tour as you will be using public transport to get to the different sites. You can also buy it from our meeting point manager right before the tour.
0 Reviews
Unfortunately there are no reviews available. Be the first to review The Berlin Wall - Walking tour.
know betterbook bettergo better
TripAdvisor Traveler Rating
8815 Reviews
More offers from this partner