Berlin Dungeon Special Day Ticket + VIP Entrance
–10%
The Dungeon is a journey throughout 700 years of the capital's dark history, presented in 9 mysterious and fantastic shows by 9 scandalous Berlin figures. With the exclusive Express ticket you cut the line at the counter for this black comedy.
700 years of history in 9 live shows with real actors
A journey back to the time of the 1576 epidemic plague
Improvised intervention of participants in the related stories
Shows in German or English
Exclusive Express ticket
Included
Entrance in the Berlin Dungeon, priority entrance with VIP ticket
Duration
1 Day
Categories
Attractions, Museums, Explore & Discover, Attractions in Berlin, Museums in Berlin, Attractions in Berlin, Museums in Berlin
Languages
German, English
Opening hours
01/01/2013 – 12/31/2026
Daily 10:00 - 18:00

Region
Berlin, Berlin
Requirements
Minimum age 8 years (recommended 10 years); children up to 14 years old only accompanied by an adult; children under 10 years need in addition a written consent of the legal guardian; no heart diseases
Important information
Shows take 60 minutes and start every few minutes; the last show is at 5 pm between 1st of November and 20th of December and besides this the last show is at 4 pm
Venue
Berlin Dungeon
Spandauer Str. 2, 10178 Berlin
Parking available
S-Bahn and U-Bahn: Hackescher Markt and Alexanderplatz stations less than 10 minutes walk
Offered by
Berlin Dungeon
10178 - Berlin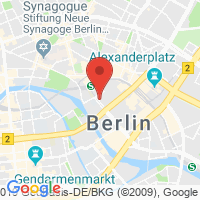 Further information
The Dungeon is a scary retelling of the darkest chapters in the history of Berlin. Anyone who joins this journey in time will get scary insights into the capital's history of the last 700 years presented live.
The attractions of this special journey are:
The Horror Elevator
Berlins Old Library
Run Away on the Spree
Epidemic street: Meet the Doctor
Torture Chamber
The Secret Court
The Lost Catacombs
The White Lady
Berlins Butcher
A slighly wrecked elevator goes sharply downhill with an introduction from an unpredictable court jester. After a horror history lecture with the softer Pater Roderick from the 14th Century, you will travel back time just before the epidemic plague of 1576 that brought back death in town.
After the plague doctor, the seemingly hopeless torture chamber and the secret court you will enter the lost catacombs. Here you have to find your way throughout the labyrinth and discover the legend of the White Lady. You will meet closely this 17th century woman and in the next chapter you may find out what secrets lie behind the powerful noises from the children's sarcophagus.
At the end you will meet Berlin's butcher, Carl Großmann. He will wait for you at his house in the butcher's table.
The Dungeon is open 364 days of the year and only remains closed on December 24th. From November 1st until December 20th, the performance ends at 5 pm.
0 Reviews
Unfortunately there are no reviews available. Be the first to review Berlin Dungeon Special Day Ticket + VIP Entrance.
know betterbook bettergo better
TripAdvisor Traveler Rating
1367 Reviews