Bavaria Filmstadt - Day Ticket
Tour of the Bavaria Filmstadt featuring interactive games, a 4D motion simulation cinema and entry to the Bullyversum: Access the whole 300,000 sq. m. facility with a complete-pack! Tours are also performed in English.
Tour one of Europe's biggest film-making facilities with more than 300,000 sq. m.
Exciting interactive sets
4D motion simulation cinema, funny as well as informative adventure world "the Bullyversum"
For families with 2 adults and 2 children, the third and each additional child gets free admission
Free entry on your birthday
Available in English (at 13 hrs. during the main season)
Included
Filmstadt complete package: 90-minute guided tour, film presentation in the 4D Experience Cinema and entry into the Bullyversum, free entry for the third and every further child for families with 2 adult and 2 child tickets, if applicable
Duration
1 Day
Bring along
Valid ID for birthday children
Categories
Amusement Parks, Leisure Activities, Amusement Parks in Grünwald, Amusement Parks in Bavaria
Languages
German, English, French
Opening hours
11/07/2016 – 04/07/2020
Daily 10:00 - 17:00

Region
Grünwald, Bavaria
Requirements
Restrictions for the 4D Experience Cinema: Height between 1.20 m and 2.00 m; pregnancy, heart, neck and/or back problems, tendency towards sea sickness and recent surgery exclude participants from a visit to the cinema
Important information
Tickets will be e-mailed
Venue
GPD address: city "Geiselgasteig", street "Bavariafilmstraße", intersection "Lil-Dagover-Ring"; Entranceway to the parking lot is before that
Bavaria Filmstadt
Bavariafilmplatz 7, 82031, Grünwald, Deutschland
Parking available
Straßenbahn 25: Bavariafilmplatz stop, 10 minutes on foot
Offered by
Bavaria Filmstadt
82031 - Grünwald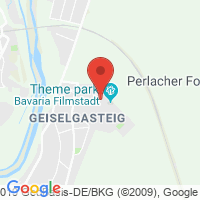 Further information
3,2,1... and action! The Bavaria Filmstadt complete pack is suited for everyone: classic movies for grown-ups or stunning sceneries for children and much more make your visit a fun and interesting experience.
The original set of famous movies is part of the tour and brings backs old memories of cinema moments. The tour guides explain the creation process of films and television programs. Movie fans will certainly be in the right place.
Many original sets offer you the possibility to play in your favorite scene from the movie! Try out the weather studio, walk in the streets of New York City or visit the set of the "Sturm der Liebe", the famous German television soap opera.
The viking ship and village from "Vicky the Viking" as well as a Gallic village from "Asterix & Obelix" are also in the Filmstadt! Then stand before the gigantic dragon Fuchur, from "the Neverending Story", which children can ride through a chroma key compositing.
Continue to the unique 4D motion simulation cinema. It's a totally different experience compared to a 3D movie: The seats move and spectators actually feel humidity, wind or even see fog. The aim is to have a cinema that involves all of your senses and you will experience Michael Herbig's "Lissi and the Wild Emperor" exactly that way. Technology fans will be amazed by the IOSONO sound system while 432 loudspeakers provide you with perfect sound, specially developed in the Fraunhofer institute (Europe's largest application-oriented research organization).
In the "Bullyversum" the ultimate indoor film adventure world takes place. Over 1500 sqm you will have magic moments, see exciting shows and many funny displays. The set from "Dreamship Surprise: Period 1" guarantees a lot of fun as well. Many different games, an interactive cinema with Hui Buh (the funny castle's ghost) and information about Bully and his movie close the Bavaria Filmstadt tour. However you may stay in this last area as long as you want!
Opening hours:
March 23 to November 3, 2013: 9 am to 6 pm, last entrance at 3 pm
November 4, 2013 to April 11, 2014: 10 am to 5 pm, last entrance at 2 pm
Closed on December 24 and 25
From March to November the English tour and a 4D adventure cinema starts daily at 1 pm. Information is anyway available on-site at the ticket-counter.
Per family, only 2 adults and 2 children pay. The third and each additional child gets free entrance, as does anyone coming on their birthday. If you are hungry, there is a McDonalds in the Filmstadt. Unfortunately, dogs are not allowed.
3 Reviews
Schön mal hinter die Kulissen schauen zu können
Ein tolles Erlebnis für alle Altersklassen. Man kann hinter die Kulissen von verschiedenen Filmen schauen. So können sich die Kinder z.B. Auf Fuchur aus der Unendlichen Geschichte setzen oder man läuft durch das Boot, aber es gibt auch neuere Filme zu sehen z.B. Ludwig II oder Big Game. Toll ist auch das Bullyversum in dem man viel selber machen kann. Es empfiehlt sich schon recht früh da zu sein, da später der Andrang an den Kassen schon recht hoch ist.
by Röthle Katrin on 04/24/2014
Superschnelle Lieferung Service perfekt, Danke
Buchung über Internet, problemlos und einfach, dann Geschenkgutschein sehr schnell geliefert, ohne Angabe von Absender (Sehr gut bei Geschenk per Post). Alle Bestens, wir freuen uns schon sehr auf den Ausflug zu Euch.

by Renate Hüttner on 01/27/2014
Tolles Erlebnis für die ganze Familie.Einfach super!
Kurzweilig und hochinteressant.
by Uwe Rau on 12/09/2013
know betterbook bettergo better
TripAdvisor Traveler Rating
364 Reviews