Introduction to Scuba Diving - Saint-Raphaël
–5%
Depart from Santa Lucia, located just 5 minutes from the Ile du Lion de Mer. 
Head out to sea alongside your certified instructor for a exciting half-day trip.
A professional diving instructor
Discover the seabeds of the Ile du Lion de Mer
25 minutes underwater
The site is close the club and is secure
Perfect for families
Venue
The club is located behind the Convention Centre, and next to the Best Western Plus La Marina hotel.
Club sous l'eau
101 Rue du Commandant le Prieur, Saint-Raphaël, France
Free parking is available nearby (ask at the club).
Agglobus, line 8
Offered by
Club Sous l'Eau
83700 - Saint-Raphaël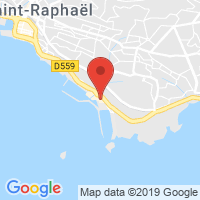 5 Reviews
Très bonne expérience
Très bonne expérience, une équipe ponctuelle et très sympathique. Je recommande cette activité.
by Sophie Landru on 08/20/2019
Super. Bonne expérience
Réservation à l'office du tourisme. Bon encadrement, bonne expérience. A refaire.
by JULIEN GENAIN on 07/25/2019
Vraiment génial
Tout c'est vraiment très bien passé. L'équipe a été très accueillante et bienveillante. Diego et papounet on su être à l'écoute tant pour les bons plongeurs que pour les débutants en baptême.
Un petit goûté stylé quatre quart pour combler les petites aurait été la pépite qui aurait fait donner une note de 11/10 :-)
by Mrs. Elodie Geay on 06/06/2019
know betterbook bettergo better
TripAdvisor Traveler Rating
5 Reviews