Ayurveda Vegetarian Cooking in Munich
Ayurveda is in India the basis of a healthy diet. You will prepare easily-digestible and soothing dishes using fresh ingredients. Herbs and spices play a central role in promoting self-healing powers in the body.
Cook according to traditional Indian cuisine in a relaxed atmosphere
Healthy and daily dishes using fresh and seasonal ingredients
Learn how to use exotic herbs and spices
Produce Ghee, the basis of Ayurveda cooking
Suitable for beginners and advanced cooks
Venue
Kochschule "Koch Dich glücklich"
Ickstattstr. 11a, 80469, München, Deutschland
U1 or U2: Fraunenhoferstraße stop, 5 minutes walk
Offered by
Mehr vom Essen
80469 - Munich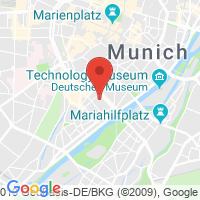 Further information
Ayurveda means "knowledge from life". In the area of nutrition this means using healthy and sustainable foods to keep the body healthy. Another important factor is that the meals are easy to digest. Herbs play a central role in Ayurveda cooking. The Indian recipes possess wholesome and self-healing properties and are seen as divine foods.
The Ayurveda teacher accordingly always passes on knowledge of cooking to others. Eating is culture. It is important to take care and lots of time preparing and enjoying the dishes. This Ayurveda vegetarian cooking course in Munich follows these traditions in the fullest sense creating the right atmosphere.
You will create healthy dishes using fresh and seasonal ingredients and which are suitable for both beginners and advanced. You will learn tips and tricks to make your daily cooking more varied and diverse.
The course leader, a passionate cook, explains the cooking procedures for the countless exotic herbs and spices and how to combine these to make tasty and delicious meals. There is an introduction in the theme of constitution ("Doshas") and a guide to the essential properties of Ayurveda nutrition.
On this menu you will find a number of different vegetable curries, rices, a lentil dish as well as chutney, Raita (yoghurt) and a dessert. Additionally you will make a traditional "Ghee", the basis of the Ayurveda cooking. Once you have conquered the essentials you can easily recreate the dishes back home. A recipe list is provided to take with you.
0 Reviews
Unfortunately there are no reviews available. Be the first to review Ayurveda Vegetarian Cooking in Munich.