AutoGyro Day Course - Fly Yourself in Rotenburg
–60%
After a theoretical course and practical training you can live out your dream of flying: with a 30-minute long Autogyro flight, in which you sit in the captain's seat and fly.
Theoretical and practical training
Fly yourself accompanied by an experienced pilot
300€ allowance for optional pilot education course
Venue
Flugplatz
Flugplatz, 27356 Rotenburg
Offered by
Helicopter-Fly
27356 - Rotenburg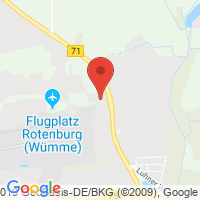 Further information
An Autogyro, also known as a gyrocopter or rotaplane, is a gyroplane just like a helicopter is. In an Autogyro the rotor is not motorized but, instead, powered by airflow. An Autogyro introduces special challenges to the coordination abilities of the pilot, but it is also considered extremely safe because it can only reach a land speed of 20 km/h or 12.5 mph.
Here you will have the opportunity to fly the Autogyro yourself. You will learn the theoretical groundwork in a two-hour long theory course. The themes range from navigation, technique, and meteorology to the aircraft radio system and aviation law. You will also experience the basics of how an autogyro is serviced and which instruments are important. We provide a small midday snack before the flight for refreshment and also so that you can get to know the other participants and ask the flight instructors any other questions you might have.
Finally, you will board the Autogyro (model Cavalon or Calidus) with an experienced pilot. During the 30-minute flight you will be allowed to sit in the captain's seat and fly yourself while practicing what you learned. While you are flying through the skies with your flight instructor, the other participants will be watching a flight film.
Flying an Autogyro can be addictive. If you decide to take part in a pilot education program, then you will receive a €300 allowance towards the course. You will also receive a personalized pilot certification via email as a memento from your flight day.
You can set up your visit via email or on the phone during our opening hours: Monday through Friday 9 am to 1 pm.
2 Reviews
by Alessio Gundermann on 09/27/2012
by Leticia Hansen on 09/06/2012