Children between 6 and 12 will discover cooking for about 1h30, during which time they will concoct and then taste their own dishes.Recipes designed easy, fun and tasty.The perfect way to combine having fun and finding out about new foods, discovering new tastes as well as a new way of eating.
All the children will be given recipe cards
Every wednesday from 3pm to 5pm.
An extraordinary birthday surprise to your little angels
Venue
CUISINE SUR COURS Atelier gastronomique
75 Avenue Alfred Borriglione, 06100 Nice, France / www.cuisinesurcours.com
Offered by
Cuisine sur cours Atelier gastronomique
06100 - Nice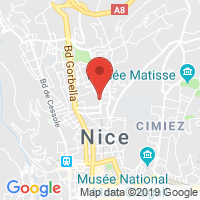 Further information
As a creative gourmet chef who is always seeking out innovation, Aude excels at sharing her knowledge, tips, and tricks. With her help, your dishes will always be a success without spending hours in the kitchen, and you will fully enjoy cooking for yourself or your family and friends.
0 Reviews
Unfortunately there are no reviews available. Be the first to review CHILDREN course.
know betterbook bettergo better
TripAdvisor Traveler Rating
98 Reviews
More offers from this partner