A cookery class designed for teenagers aged 12 to 16:  an initiation to cooking with two dishes.. during 1h30.
A way to cook something different and from the season.
Let's start with cooking by doing 2 dishes
1 Saturday out of 2
Have fun during 1h30
Venue
Cuisine sur cours Atelier gastronomique
75 Avenue Alfred Borriglione, 06100 Nice, France / www.cuisinesurcours.com
arrêt "valrose université " du tramway
Offered by
Cuisine sur cours Atelier gastronomique
06100 - Nice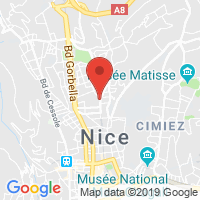 Further information
As a creative gourmet chef who is always seeking out innovation, Aude excels at sharing her knowledge, tips, and tricks. With her help, your dishes will always be a success without spending hours in the kitchen, and you will fully enjoy cooking for yourself or your family and friends.
2 Reviews
Accueil agréable et hôte tres arrangeant. Cependant ma fille
Ma fille pensait prendre un cours et a en fait participer à un atelier de réalisation. Elle est sortie frustrée de ne pas avoir appris de technique de coupes etc ..

by anne laure mas on 05/19/2019
Merci pour votre retour concernant le cours adolescent de votre fille. je suis désolée que votre fille soit sortie frustrée mais malheureusement il s'agit d'un cours pour enfant et les niveaux des participants est souvent très variés et cette fois ci moins élevé que celui de votre fille. le but étant de s'adapter à tous. De plus ils ont appris pas mal de techniques: sur la béchamel, la pâte feuilleté, le montage du feuilleté et pour le dessert : la cuisson, les épices, l'origine du gâteau et je dois en oublier.... Par rapport au menu du jour; il n'y avait pas vraiment de coupe de légumes, herbes ou autres... les techniques dépendent bien évidemment du menu du jour mais cela reste un cours interactif ou je pose des questions et les enfants peuvent également m'en poser.
Un cadeau d'anniversaire pour mon fils auquel s'est jouté sa soeur. Ils se sont régalés dans tous les sens du terme...je n'hésiterai pas à renouveler l'experience.
Je recommande vivement cette activité.

by chrystele SARDO on 03/22/2018
know betterbook bettergo better
TripAdvisor Traveler Rating
98 Reviews
More offers from this partner