Asia Dream Package in Munich Bogenhausen
–5%
The Asia Dream Package in Munich Bogenhausen includes neck, shoulder, back and head massage with frangrant oils and balms of your choice. This massage by professional masseurs is the perfect way to unwind.
Qualified and experienced Thai masseur
Central location directly opposite Böhmerwaldplatz
High quality massage oil
Venue
Ochidee Wellness-Studio
Richard-Strauss-Straße 56, München, Deutschland
Parking available
U4: Böhmerwaldplatz
Offered by
Orchidee Wellness-Studio
81677 - Munich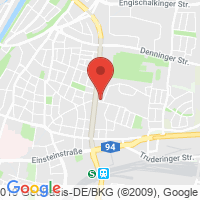 Further information
The Asia Dream Package fulfils every massage wish in a centrally located massage studio in Munich Bogenhausen. The massage package includes a complete massage of the torso, including the head, neck, shoulders and back. In a comfortable atmosphere and with the scent of aroma oil and balm chosen by you, you will experience a vitalising and deeply relaxing body massage.
2 Reviews
Sehr empfehlenswert
Sehr gute Preis-Leistungs-Verhältnis. Sind zwar nur 30 Minuten, aber dafür ist dieses Massage-Paket sehr entspannend.
Sowohl bei der Buchung als auch bei der Bezahlung gab es überhaupt kein Problem. Einfach das Ticket abgeben und fertig. Alles schnell, alles sauber.
Auf jeden Fall zu Empfehlen!
by Eddie on 10/28/2013
by Tessa Kaiser on 01/08/2013