Aoubré : Park Access - Flassans
–25%
In the heart of a stunning forest near Flassans-sur-Issole, the 32-hectare Cedar Park invites you to uncover its passion for tree-climbing.
Enjoy a day experiencing the educational pathways, the little farm, the treetop adventure (suitable for all levels) and the butterfly garden.
Perfect for families
Picnic tables
Adventure courses for every age
Unique: the barefoot trail
"Discovery" netted paths in the cedars
Shop and snack on-site
Included

Access to all the park's infrastructure (excluding adventure trails)

Not included

The adventure trails

Duration
1 Day
Bring along

Water bottle, hat/baseball cap, sneakers

Categories
Zoos & Animal Parks, Leisure Activities, Zoos & Animal Parks in Flassans-sur-Issole, Zoos & Animal Parks in Provence-Alpes-Côte d'Azur
Languages
English, French
Opening hours
09/17/2019 – 10/20/2019
Me 10:00 - 18:30
Sa, Di 09:30 - 19:00
10/21/2019 – 11/03/2019
Daily 09:30 - 18:30
11/04/2019 – 12/01/2019
Sa, Di 09:30 - 17:30

Region
Flassans-sur-Issole, Provence-Alpes-Côte d'Azur
Requirements

This activity is suitable for people with a mental or physical disability (visually impaired, deaf and dumb).

Not suitable for people with reduced mobility.

Important information

After you booked, we will confirm the availability within 24 hours
No charges will be taken if the activity is not available
Present directly your confirmation with your smartphone
Venue
Aoubré l'aventure nature
Aoubré l'Aventure Nature, 83340 Flassans-sur-Issole, France
There is a large free car-park at the park's entrance.
Offered by
Aoubré l'Aventure Nature
- Flassans-sur-Issole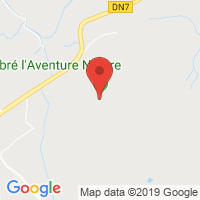 Further information
At the park, you will find:
Nature discovery:
- Encounter many different species of animals in semi-freedom over the 32 hectares of the park (wild boar, donkeys, deer, goats...)
- Stroll through the heart of this Mediterannean forest to discover its different trails, such as the barefoot trail, the trail of hanging sounds, the aromatic trail, the body of water...
- The butterfly garden : Aoubré park values and protects its forest's biodiversity
The discovery nets: Alternatively, wander in complete safety across different netted paths, as high up as 15 metres or more for the adults, and at ground level for the little ones.
2 Reviews
Parc très agréable
Parc très agréable, en partie ombragé. Les enfants ont beaucoup aimé. Prévoir par contre suffisamment d'eau car il n'y a pas de point d'eau au plus loin du parc et c'est dommage.
by Aline LARCHER on 08/07/2019
Un parc super pour les jeunes enfants
Troisième visite en 3 mois. Mon fils de 23 mois adore les animaux mais également les filets. Le personnel est agréable. Une super sortie à faire en famille.
by Stéphanie C on 08/13/2017
More offers from this partner