Aoubré : Adventure Park - Flassans
–10%
In the heart of a stunning forest close to Flassans-sur-Issole, the 32-hectare Cedar Park invites you to uncover its  passion for tree-climbing.
Enjoy a day experiencing the educational pathways, the little farm, the treetop adventure (suitable for all levels) and the butterfly garden.
Perfect for families
Picnic tables
Adventure trails for all ages
Unique: the barefoot path
"Discovery" netted paths in the cedars
Shop and snack on-site
Included

3 hours on the trails + access to all the park's infrastructure

Duration
6 Hours or 5 Hours
Bring along

Water bottle, hat/baseball cap, sneakers

Categories
Zoos & Animal Parks, Leisure Activities, Zoos & Animal Parks in Flassans-sur-Issole, Zoos & Animal Parks in Provence-Alpes-Côte d'Azur
Languages
English, French
Opening hours
Region
Flassans-sur-Issole, Provence-Alpes-Côte d'Azur
Requirements

This activity is suitable for people with a mental or physical disability (visually impaired, deaf and dumb).

Not suitable for people with reduced mobility.

Important information

Free for children under 3 years of age.
Remember to reserve your time slot for the adventure trails by calling: 06 12 58 02 26
After you booked, we will confirm the availability within 24 hours
No charges will be taken if the activity is not available
Present directly your confirmation with your smartphone
Venue
Aourbé l'Aventure Nature
Aoubré l'Aventure Nature, 83340 Flassans-sur-Issole, France
A large free car-park is located at the entrance to the park.
Offered by
Aoubré l'Aventure Nature
83340 - Flassans-sur-Issole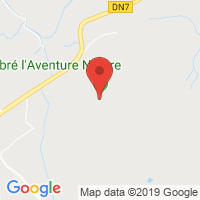 Further information
At the park, you will find:
Nature discovery:
- Encounter various species of animals in semi-freedom over the park's 32 hectares (wild boar, donkeys, deer, goats...)
- Stroll through the heart of this Mediterranean forest to discover the different trails, such as the barefoot trail, the trail of hanging sounds, the aromatic trail, and the body of water...
- The butterfly garden : Aoubré park values and protects its forest's biodiversity
Treetop adventure:
 - Adventure with harnesses: reservation is obligatory in order to choose your trail, the adventure is appropriate for those aged 4 to 70 years old. 
Mowgli Trail (from 4 to 7 years old): this trail provides an initiation for children. They must at all times be accompanied by an adult on the ground.
Blue Chickadee Trail (6 years and up): ideal workshops for beginners (children must be accompanied by an adult at height).
Woodpecker and Robin Trails (8 years and up): workshops vary from 5 to 7 metres above ground. Adapted to the less athletic. 
Squirrel and Black Eagle Trails (8 years and up): varied and exciting workshops, from 7 to 12 metres above ground. For the more athletic or informed public.
The zip-line (8 years and up): At the end of your trail, for the more daring, discover this 120 metre zip-line, and fly through a corridor of greenery. 
- The "discovery" netted paths: take a walk in complete safety through different netted paths up in the trees. Some nets are as high up as 15 metres or more for adults, and some are on the ground for the little ones.
4 Reviews
Très bien !!!
Personnel très sympa, les parcours sont agréables et bien sécurisés, nombreux paons font leurs vie en liberté, c'est marrant......
Apparemment les oiseaux et volailles son bien traiter....par contre les moutons font la tête....
by Dominique Bruzzoni on 07/17/2019
Superbe journée
Nickel la journée il y en a pour tous les âges.. et tous les goûts...les enfants étaient fatigués le soir tellement qu Ils se sont bien dépensés...
by aissatou liska on 08/26/2018
Très bonne journée
Nous avons passé une agréable journée debut août malgré une chaleur écrasante. Même l animateur n avait pas la pêche et avait l air d en avoir marre !!! Mais avec la chaleur c est difficile on ne lui en veut pas..... Surtout en cas de chaleur prévoir beaucoup d eau.
Sinon très bon accueil en arrivant, animateurs au bas des arbres qui vérifient contrôlent et dirigent. On ressent une reelle proximité avec les animateurs. C'est très bien.
Manque des poubelles sur le parc.
Sinon nourriture pas trop chère par rapport à d autres mais pas terrible malgré tout. Avec la chaleur difficile de manger sur la terrasse même si elle est couverte. Il faudrait une salle plus fraîche.
Sinon le parc est adapté pour tous. Bons parcours , grandes tyroliennes. Rien à dire. On a le temps de pratiquement tout faire en trois heures en ce qui concerne l accrobranche. Pour la réservation nous sommes passés par un opérateur sur prospectus retiré a l'office du tourisme ce qui ne nous a pas coûté moins cher notre fils ayant payé plus cher suite à erreur de l operatrice....
Activité å recommander.
by Alexandra CARLETTI on 08/27/2017
More offers from this partner