Amsterdam Dungeon - VIP day ticket
–10%
In the dungeon visitors travel back through the gruesome 500 year history of Amsterdam. In 11 live shows real actors will teach you laughter and horror at the same time. 1 roller coaster, special effects and incredible horror stories guarantee a scary-funny experience.
Action around the exciting history of Amsterdam
Become a part of the true, horrifying history of Amsterdam
Sinister figures such as the criminal Black John, witches or torturers
| | |
| --- | --- |
| Duration | 80 Minutes |
| Categories | Amusement Parks, Leisure Activities |
| Languages | English, French, German |
| Opening hours | |
| Region | Amsterdam, North Holland |
| Requirements | Minimum age: 5 years |
| Important information | Tours start at 11:00am every 10 to 15 minutes, final admission at 5:00pm (Exceptions: 14th of December: 7:00pm, 24th and 25th of December 4:30pm, 1st of January: first tour at 12:00pm) |
Venue
Amsterdam Dungeon
Rokin 78, 1012 KW De Wallen, Amsterdam, Niederlande
Tram 1, 2, 4, 5, 9, 14, 16, 17, 24, 25: Haltestelle Dam, 5 Minuten Fußweg
Offered by
Amsterdam Dungeon
1012 KW - Amsterdam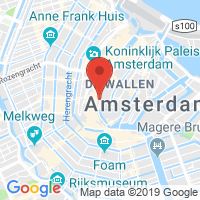 Further information
Visitors of the dungeon will learn about the 500 year dark history of Amsterdam in a spooky-funny fashion. You will become part of the story in 11 live shows and during 1 roller coaster. Real actors will portray witches, torturers, criminals, inquisitors and wizards. For 80 minutes they will stage black-as-pitch comedies which are based on real events, thus teaching fear and laughter at the same time. The following stops are passed:
Elevator of Horror
Torture Chamber
The Torturer
Magic Musico
The Hell of VOC Batavia
Black John
Spanish Inquisition
Meynes Cornelis
The Labyrinth
Witches
The Grim Reaper
The voyage back in time begins at the Elevator of Horror, which takes the visitors down into the heart of the Amsterdam Dungeon. As soon as you get out you will smell air filled with fear: you are in the Torture Chamber and no-one can escape the cluthes of the Torturer - whether you are a murderer, thief, traitor or completely innocent, his tools will wrench confessions from one and all.
As soon as visitors have escaped they find themselves faced with the Wizard Magic Musico and his Evil Eye. His dire prophecies will soon come true, since you will, without realizing it, sell you soulr to the VOC Batavia. On a horrific, overcrowded ship from the 17th century await illnesses, filth and a fight for survival. Save yourself, before it sinks!
Those who miraculously escaped death by drowning will find themselves in the Anatomy Theatre of Doktor Deyman. Here the corpse of the famous criminal Black John is being analyzed and dissected in detail. The next stop takes visitors back to the 13th century. You are in court, accused of heresy, and you will experience the arbitrariness of the Spanish Inquisition first hand. Only those that can offer enough money can escape judgement. Most recently the Witch Meynes Cornelis was burnt at the stake - her vengful ghost has since held the city in its fearful grip.
The only way out from all this misery, illness and pain is through the Labyrinth. Here you have to try to stave off panic and trust your sense of direction. Those that make it through will become witnesses to a real witch burning. Will visitors manage to escape such a terrible fate? The Grim Reaper - a roller coaster setting a course to hell - is already waiting.
1 Reviews
Nicht so toll
Erst bei der letzten Aktion kam ein wenig Erschrecken auf.
Bei der Buchnung hatte ich keine Probleme.
Regiondo wird ja sicher noch andere Attraktionen anbieten, deshalb würde ich Euch auch weiter empfehlen.
by Kati list on 09/02/2015
know betterbook bettergo better
TripAdvisor Traveler Rating
2569 Reviews