Alhambra and Generalife Select
Discover the wonderful Alhambra with this small guided tour. Skip the lines and embark on a 3-hour walking tour throughout the history of the Nasrid Dynasty. Accompanied by a knowledgeable guide explore the magic and history of this important structure.The Alhambra is the most important and captivating monument of Muslim Spain and one of the most visited attractions in the country.
Discover the myths and legends of this breathtaking site with an official guide
Walk through the idyllic gardens of the Generalife and listen to the relaxing murmur of the fountains
Skip the long lines to Alhambra and Generalife leaving you more time to explore inside
Included

Skip-the-line entrance ticket to Alhambra General

Guided tour in Spanish, English, German or French

Headphones

Not included

Audioguide

Transportation

Meals and drinks

Duration
3 Hours or 2 Hours
Bring along

Passport or Id Card

Participants
From 2 To 10
Categories
Sightseeing Tours, Explore & Discover, Sightseeing Tours in Granada, Sightseeing Tours in Andalucía
Languages
German, Spanish, French, English
Opening hours
Region
Granada, Andalucía
Requirements

NOMINATIVE TICKETS

You must indicate the full name and surname and identity number of each participant at the MOMENT OF MAKING THE RESERVATION (this information will not be processed by e-mail). The nominative tickets are normative of the Patronage of the Alhambra

Bring your Passport or Id Card

You must be at the meeting point 15 minutes before starting the tour. The tour starts at the scheduled time and if you arrive late you may miss your visit

Important information

It is not a recommended visit if you need a wheelchair to make the visit. Access is through a different place to the main group and there are many areas that you can not visit.

IT IS IMPRENCIBLE TO COMPLETE THE INFORMATION OF ALL THE TRAVELERS AND YOU MUST BRING WITH YOU IDENTIFICATION OR PASSPORT SINCE THE PERSONNEL OF THE BOARD OF EMPLOYEES CAN REQUIRE IT. NOT BRINGING IT MAY LEAD THAT THE STAFF OF THE ALHAMBRA EMPLOYEE DO NOT ALLOW YOU TO ACCESS .

If you need it, our emergency telephone number is +34 958 281499
Venue
We always recommend arriving at the Alhambra giving a pleasant 15 or 20 minutes walk from the center of the city, but you should know that the monument is located on top of a hill and that this path can be a bit tiring for certain people. If you do not feel like walking, the easiest way to get there is to take bus C30 or C32 in Plaza Isabel la Católica (pay in the bus and cost € 1.40) or take a taxi to the main entrance.
Pabellón de acceso de la Alhambra, junto a las taquillas de compra y retirada de tickets. Para reconocernos, busca un pa
Paseo del Generalife, 1F, 18009 Granada, España
Avoid the car if you can.
Bus stop C30 and C32 very close to the main entrance.
Offered by
VisitaGranada
18009 - Granada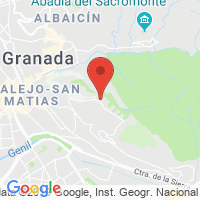 Further information
Alhambra is the most visited monument of Spain and a must for those who travel to Granada. If you decide to visit it with an official guide telling you all the secrets and legends of the monument, the tour becomes an unique experience in life. We invite you to join our daily 3 hours tour and skip the long lines at the entrance. Discover the history and art of one of the most beautiful places in the World by the hand of an offical tour guide.Nasrid palaces, Generalife, Alcazaba, the palace of Charles V and the hamman included in this tour.
Avoid queuing up outside thanks to your skip-the-line entrance ticket and you'll be sure to enjoy the journey throughout this breathtaking monument. Your tour will take place in small groups of up to 10 people, making for a more personable and relaxing experience.
6 Reviews
Unique in the world!!
We enjoyed a great deal our tour guided by Eduardo to the Alhambra. He was very knowledgeable and approachable. His explanations made us understand that the Alhambra is a unique place in the world.
Booking was simple and I would definetly recommed the visit!!!
by Jean Niemeyer on 09/17/2019
La experiencia ha sido muy positiva, el grupo muy interesado y reducido lo cual valoro como muy positivo. El guía amable y claro en su exposición.
Si la recomendaría
by MARIA LUISA MARTÍN DIAZ on 09/10/2019
Visita limitada para 10 ps que al final fueron 12
La visita fue correcta, amena y normal, ni más ni menos. El guía se esforzó mucho en llevarnos a determinados establecimientos, lo que daba la impresión que hacia por las comisiones que se pudiera llevar.
Lo que más me molestó es que cuando se ofrece la visita para grupos de máximo 10 personas, el grupo fue de 12. Para mi eso es un fraude.
by Jose Luis Martinez on 08/21/2019
More offers from this partner