Algarve Downhill MTB Tour - For the Off-road rider
Enjoy a Downhill Off-road Bike Tour on superb MTB trails in the green and cooler Serra de Monchique.
You´ll ride a well maintained and clean Giant 29-er.
Off-road downhill ride for the skilled rider
Tasty lunch included with fresh orange juice
Uphill transport included
Included

a good MTB available in many sizes
a clean helmet in your size
transport uphill
an experienced and friendly MTB guide
support vehicle with your belongings and water in cool boxes
a tasty lunch in a local tavern served with a fresh orange juice

Not included

hotel pick up, but available at an extra cost
extra drinks in the café on the top or at or after lunch

Duration
6 Hours or 0 Hour
Bring along

July/August: We recommend to bring sunglasses and sun protection with factor 30 or more. With a sensitive skin you might want to bring a long sleeve shirt.

Rest of the year: The top of Fóia at 902 meters (2960 feet) might always be more chilly or even cold. An extra vest or wind jacket is recommend to bring, and can be left in the support car after a while.

Participants
Tour takes place with minimum 4 participants and takes maximum 15 participants

Spectators free of charge
Languages
English, Portuguese
Opening hours
Region
Faro
Requirements

Provide us with your height, so we shall reserve the right size of bike.

Important information

Pleae meet us 10-15 minutes before the start time

Additional information
Downhill Off-road - Info Sheet 2018 - Outdoor-Tours.pdf
Venue
Outdoor-Tours.com office
Rua Francisco Bívar 142A, Portimão, Portugal
Free parking in front or near the office
Bus: Within 5 minutes walking distance from the bus stop for the Lagos < > Portimão bus. Train: The nearest train station is 15-20 minutes walking away.
Offered by
Outdoor-Tours.com
- Portimão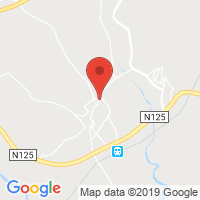 Further information
Downhill Off-road Bike Tour
We´ll meet at the coast between Lagos and Portimão in our office in Mexilhoeira Grande. Form here we´ll transfer you up to the Algarves highest peak, the 2960ft/902 mtrs Foia.After a short safety briefing you´re ready to start your Downhill Off-road Bike Tour, back to the south coast. Our bike guide will lead the tour, and our support vehicle follows with your belongings and a cool box with cold (and free) bottled water.
Safety and level of the Downhill Off-road Bike Tour
The Downhill Off-road Bike Tour is offered as a social ride with (photo) stops and some explanations about the local flora & fauna. In case you are a competitive downhiller please look for alternatives.On the other side we assume that when you book this trip, you have already some off-road mountain bike experience. We have an excellent safety record, and it´s our ambition to keep it.The required fitness level is "medium-good" with "doing sport activities 1-2 x week"The required technical skills are "experience with riding single and double tracks with some technical parts"The minimum age is 16 years and minimum 4ft9/149cm tall. A partner or child can join as spectator for a reduced price and enjoy the day from the support vehicle.
2016/2017 models Giant 29-ers
On this Downhill Off-road Bike Tour you´ll be riding a well maintained and clean Giant 29″ MTB with smooth 3 * 10 Deore and XT gears, safe Shimano hydraulic disc brakes and a comfy 100mm suspension fork with lock-out. These fine bikes are available in the sizes M (18″), L (20″) and XL (21″), see geometry here.Should you wish to ride a smaller bike we have some older models with 26 inch wheels and 3 * 9 gears, V-brakes and lock-out front suspension. For the smallest bike you would need to be at least 4ft9/149cm tall. The largest bike serves a rider of 6ft6/201cm.
Which days we ride and what´s for lunch
We run this Downhill Off-road Bike Tour every Monday, Wednesday and Friday. And we´ll meet a bit before 09h30 in Mexilhoeira Grande and to return here at around 15h00. Lunch is usually at 12h30.To let the tour go ahead, we need at least 4 riders. The maximum group size is 12 participants. But in case you wish to organise this bike tour for a larger group of friends or company day out, please contact us to see which days are available and as a result receive a group discount.Included is a healthy and locally sourced lunch with vegetable soup, a tasty pasta salad with vegetables and tuna, and a freshly squeezed orange juice. In the warm summer months we change this to a fresh and rich Portuguese gazpacho, a freshly squeezed orange juice and locally grown melon kept cool in the fridge. The tavern where we stop is in the small mountain village of Casais.
Included on all trips
- transport up the mountain from Mexilhoeira Grande (09h30)
- free return transfer from Lagos or Meia Praia
- furthermore 10% off when you book with 6 riders or more
- lunch with fresh orange juice (around 12h30)
- clean and well maintained 2016/2017 Mountain Bike Giant 29-er or a smaller sized MTB of your choice
- safety helmet in various sizes and EN 1078 certified
- qualified and multi-lingual mountain bike guide in front of the groupsupport vehicle following the group
- cold and bottled water during the whole daya free drink at the end of the day in our office (around 15h00)liability and personal accident insurance accordingly to Portuguese licensing law
- official Portuguese Outdoor Adventure License (RNT 61/2007)
- therefore guaranteed fun with 15+ years of experience riding the best trails in Serra de Monchique
0 Reviews
Unfortunately there are no reviews available. Be the first to review Algarve Downhill MTB Tour - For the Off-road rider.