After-Work Cooking - Cooking Course in Munich
On this After-Work Cooking Course you will learn how to cook some delicious and above all healthy dishes for your weekly evening meals. Together with a professional chef you will be ableto bring different dishes to the table every day of the week, all with as little effort as possible.
New ideas for varied and quick cuisine
Practical tips about ingredients and buying ingredients
Use fresh, seasonal and organic ingredients
Instruction by an experienced teacher
| | |
| --- | --- |
| Included | 4-hour cooking course, apron, ingredients and cooking utensils, free soft drinks all evening, 1 glass of wine, recipe list |
| Duration | 4 Hours 30 Minutes |
| Participants | Groups of 8-14 participants, single bookings welcome |
| Categories | Fast Cooking, Other cooking courses |
| Languages | German, English |
| Opening hours | |
| Region | Munich, Bavaria |
Venue
Kochschule "Koch Dich glücklich"
Ickstattstr. 11a, 80469, München, Deutschland
U1 or U2: Frauenhoferstraße stop, 5 minutes walk
Offered by
Mehr vom Essen
80469 - Munich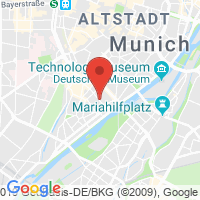 Further information
"What on earth should I cook? In 20-30 minutes there must be something on the table!" Just after work time is often in short supply. After this cooking course in Munich you won't have to deal with this question anymore. A passionate chef reveals all her tips and tricks to help conjure up delicious and healthy dishes with little effort.
A master plan for meals suitable for daily use is designed so that every day you will be able to bring something new to the table. For this, every kitchen will need to have so-called food basics – long-lasting products which you can always use to create something quickly. This doesn't just include pasta and rice. The chef Elisabeth Edele will reveal numerous secret tips about halloumi, bulgur, quinoa and tahini.
Before you head to the cooker there is a power-drink for every participant: In 2 minutes you will prepare a drink full of energy and lightness. Then in small groups you will prepare delicious dishes with Elisabeth Edele. On the menu you will find:
Red lentil soup with vegetables and fish
Goat's cheese on Mediterranean oven-baked vegetables and potatoes, sweet-potatoes and pumpkin
Fried quinoa cakes with yoghurt
Tabouleh with halloumi
Quark dessert with mango and walnuts

Naturally all the dishes will be served at the end in generous portions together with a glass of wine. You will also receive a recipe list to take home with you.
1 Reviews
Sehr Lecker
Hat Spaß gemacht, war sehr informativ und gemütlich. Ausserdem gutes Skript mitgegeben. Hoffe ich komme mal dazu es selbst auszuprobieren. Lecker war es!
by Jörg on 02/03/2015