After Dark: Ghost Tour in Munich
Immerse yourself into the dark side of Munich with this 2 hour guided tour, where the secret stories about the city will be revealed. The experienced guide tour will tell you all about ghosts, ghouls and witches that Munich hides.
Walk on the hidden dark alleys of the Old Town, looking for ghosts and ghouls
Creepy tales about torture, madness and witches
Find out why the city executioner was never jobless
Venue
Meeting point is at Radius Tours Office, 3 minute walk from the S Bahn, U Bahn
Munich Central Train Station (Hauptbahnhof)
Arnulfstraße 3, München, Deutschland
Parking is available for a fee
S Bahn, U Bahn Central Station
Offered by
Radius Tours GmbH
80335 - Munich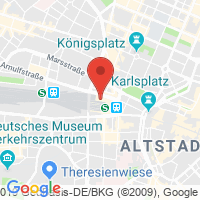 Further information
On this 2 hour long tour, a spectral guide will introduce you into the dark side of the city, leading you through the secret haunts of the medieval Old Town, and will share with you gruesome tales about tyranny, supernatural and madness.
Every city has its stories, but in 850 years of history, this city has accumulated grisly and secret stories, that you should probably keep to yourself. As the sun goes down and shadows dim the antique streets of Munich loom, you will feel this restless past come alive again. The tour guide will light your way through the gloomy haunted cemeteries, old alleyways, bloodstained cobbled streets and perhaps you will also hear the ghosts speaking from their graves. 
Tales of torture, witch-burning, madness and murder will be also told in this tour as you will silently wander on the secret haunts where the devil lurked and witches plied their trade. The guide will also show you the places where love and passion resulted in death and tragedy. As tyranny, bigotry and simple misfortune ruled the medieval times, the city's executioner had always something to work on the bloodstained streets, on which you will walk along during this tour.
0 Reviews
Unfortunately there are no reviews available. Be the first to review After Dark: Ghost Tour in Munich.
know betterbook bettergo better
TripAdvisor Traveler Rating
5841 Reviews
More offers from this partner