Abu Dhabi: Desert tour into the sunrise
Sunrises are somehow magical, soothing and always remain in memory. Combined with a desert feeling, a little action with dune bashing and a following small breakfast in the desert camp, this morning will forever remain in memory.
Enjoy the sunrise in the desert of Abu Dhabi
Fun and action with Dune Bashing
Relax with a small breakfast in the desert camp
Included

transfers to and from the hotel / cruise terminal Abu Dhabi

Dune-bashing

breakfast with coffee, tea, soft drinks

Not included

Transfer outside Abu Dhabi

alcoholic drinks

personal spendings

tips

Bring along

Comfortable clothing, sunglasses, possibly headgear, suncream, camera,In the months of November to March a light jacket (in this time it can be very cool in the early morning hours)

Participants
Sharing Tour
Categories
Off-Road, Driving, Off-Road in Abu Dhabi, Off-Road in Abu Dhabi
Languages
English, Arabic
Opening hours
Region
Abu Dhabi, Abu Dhabi
Requirements

People suffering from back pain or heart disease, or pregnant women are not able to participate in the dune bashing.

Important information

Due to weather conditions and/or holidays and during Ramadan the route can be changed slightly. If the tour has to be shifted (for example because of a sandstorm or similar), an alternate date is agreed.

Cancellations up to 24 hours prior to departure - no charge - 100% of your money will be returned.
Cancellation up to 12 hours prior to the start of the tour - 50% charge - you will receive 50% of your money back.
Cancellation less than 12 hours prior to departure or No Show - 100% charge - No refund.
Venue
Please let us know the name and address of your hotel while booking. Pick up from your hotel / accommodation / cruise terminal in Abu Dhabi City is included in the price.

Abu Dhabi - United Arab Emirates
Offered by
Citygesichter GmbH Networking I Travel&Events I Marketing
- Abu Dhabi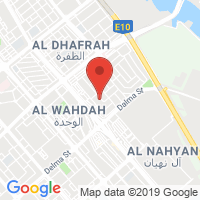 Further information
This experience is enjoyable from the start: everyone is picked up at their hotel. After arriving in the desert, you will climb the dune crests with Land Cruisers. This is an exciting ride and is not for the faint-hearted!
You will climb up to the highest viewpoint of the sand dunes. From there you can admire the play of colours of the rising sun and with some luck also see the morning fog for especially pictures at the sky. Afterwards, you will have a delicious smelling Arabian coffee and a breakfast is prepared in the desert camp. Here, everyone can relax and learn a lot about the traditions of the country. Also, a small ride on a camel is possible. After that, it is time to leave and everyone is returned to his hotel.
5 Reviews
Schöne Tour trotz Nebel
Vom Erstkontakt an top.
Für den Nebel kann der Veranstalter nichts. Auch andere Gruppen standen in der "Suppe". Das Dune Bashing, Sandboarden und Quad fahren haben total Spass gemacht. Die Zeit in Camp empfanden wir als zu lang. Lag sicherlich auch an den vielen Mücken.
by Monika on 06/08/2019
Ein perfekter Start in den Tag!
Da wir an diesem Morgen die einzigen waren wurde daraus eine Privattour. Unser Fahrer war sehr freundlich und super zu verstehen. Mein Sohn und ich hatten richtig Spaß. Mir hat das Quadfahren am meisten Spaß gemacht. Das werde ich auf jeden Fall mal wieder tun.
by Pia Griesbach on 04/30/2019
Liebe Pia Griesbach, vielen lieben Dank für Ihre tolle Bewertung. Wir freuen uns, dass Sie so viel Spaß hatten. Und vielleicht sind Sie ja bald mal wieder da, für die nächste Runde Quad Bike fahren! Herzliche Grüße Sylvia
Perfekt-besser geht's nicht!
Ein Super-Erlebnis für die ganze Familie. Perfekt organisiert, keine Massenveranstaltung, sehr zuvorkommende und nette Guides , so stelle ich mir derartige Touren vor!
by Sven Steinfurth on 02/10/2019
Lieber Sven Steinfurth, wir danken Ihnen ganz herzlich für Ihre tolle Bewertung und freuen uns, dass Ihnen alles so gut gefallen hat. Vielleicht sind Sie ja wieder einmal in der Nähe, dann würden wir uns freuen, Sie wieder zu sehen. Alles Liebe für die Zukunft wünscht Ihnen das Team von Emirates4you Tour&Safari
More offers from this partner